The COVID-19 pandemic has introduced an unparalleled degree of risk and uncertainty across the globe. In every country, governments and business leaders simultaneously conducted unprecedented interventions that have upended how we live, travel, communicate, and conduct business. The longer the pandemic continues, the greater its social, political and economic impact will be. But these geographic impacts will not be equal, as some nations are better suited to weather the storm than others.
Countries with higher death tolls and deeper economic losses will be subject to greater political stressors. All crises have winners and losers and in the post-pandemic world, social, ethnic and economic grievances will likely foster an environment more conducive to political violence. In 2021, the global landscape will be extremely fluid, and subject to intense political change and associated risks. With a new U.S. president taking office and no consensus as to when the pandemic will begin to subside, it is unclear what challenges lurk around the corner and how the world's current issues will be addressed.
Ultimately, the pandemic has had a mixed impact on the global security environment. With no real discernible pattern, the coronavirus has had the affect of freezing certain political situations, while igniting others. Against this backdrop of uncertainty, Global Guardian's team has analyzed the key changes and continuities to the global risk environment in our 2021 Risk Map. To download the full map, click here.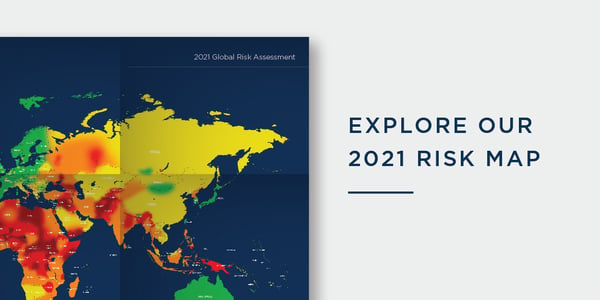 LATIN AMERICA
Latin America remains one of the world's more dangerous regions. In 2019, political upheaval – largely related to economic conditions – in Bolivia, Chile, Colombia, and Ecuador shook South America. Hit hard by the pandemic and commodity price drop, the macroeconomic headwinds in 2021 are strong. Accordingly, there is an increased likelihood of unrest in multiple countries. Though the risk in Bolivia has decreased from medium to moderate following a peaceful election, ending the nation's political crisis, cartel-related violence in Mexico continues to pose a major security concern.
EUROPE
On the fringes of Europe in the South Caucasus, Azerbaijan and Armenia fought over the disputed region of Nagorno-Karabakh. While Russia brokered a ceasefire in November 2020, tensions remain high and the risk in this region is elevated going into 2021. In Belarus, a rigged election in August 2020 has led to mass protests and a violent crackdown. The unrest has elevated the risk level of the capital Minsk to medium. In Western Europe, the risk of terrorism will increase in 2021, following attacks in France and Austria. A combination of widespread incitement, the crackdown on extremist voices, and a worsening economic environment will drive this risk in 2021.
MIDDLE EAST
The risk landscape in the Middle East remains largely unchanged, with ongoing conflicts in Yemen, Syria, Afghanistan, and Libya. While the normalization agreements between Israel and the UAE, Bahrain, and Sudan bode well for long-term stability, regional tension will remain high in 2021. The incoming U.S. administration's approach to Israel, Turkey, Saudi Arabia, and most importantly, Iran, will play a large role in determining regional security dynamics. As Iran attempts to gain leverage for a potential resumption of diplomacy over its nuclear program, the multiple layers of overlapping conflict will all but ensure continued volatility in the region.
AFRICA
Risks remain high across much of Africa, as militancy and instability continue to plague many pockets of the continent. West Africa is reeling from multiple political crises. From a coup in Mali, and violently disputed elections in Ivory Coast and Guinea, to highly violent nationwide anti-police protests in Nigeria, instability will continue well into 2021. While there was optimism about the prospects of Ethiopia and Eritrea in 2020 following the landmark 2018 peace agreement, ethnic violence has once again returned to the region. The central government in Ethiopia has ordered military operations in Tigray against the regional government. This new conflict has the potential to ignite other ethnic and clan cleavages across Ethiopia. A broader destabilization could have knock-on effects in Somalia and Eritrea. The risk level in northwestern Mozambique has increased to high, following the rapid advances of the Islamic State's local affiliate. In early August 2020, fighters of Ahl al-Sunnah wa al Jamma'ah (ASWJ) captured the port town port of Mocimboa. ASWJ now controls an area roughly the size of Austria, directly threatening the development of Africa's three largest liquid natural gas (LNG) projects.
ASIA
The risks environment in Asia has remained relatively unchanged. Insurgency continues in the Philippines, Sino-Indian border tensions will remain, and Washington's pressure campaign on China linked to Hong Kong, Xinjiang, the South China Sea, and the tech sector is likely to continue. Meanwhile, we are likely to see a resumption of agitation from North Korea as it attempts to set the terms for its relationship with the incoming U.S. administration. In 2020, the new Beijing-imposed national security law in Hong Kong likely put an end to Hong Kong's pseudo-autonomous status and its democratic movement. The freedoms and legal protections once afforded in Hong Kong will now slowly begin to disappear, and the political risks that foreign firms face in China are now extended to Hong Kong. Accordingly, we have elevated Hong Kong from low to moderate risk.
LOOKING AHEAD
While we hope that 2021 will be a more "normal" year for international travel security, the pandemic will continue to drive uncertainty and its second and third order effects are yet to be seen. To download the full map, click here.
Global Guardian is positioned to help corporations and their employees mitigate these risks with a suite of purpose-built tools and services, from pre-travel intelligence to emergency evacuations. Contact us by clicking below or calling our 24/7 Operations Center at 703-566-9463.