As Mexico's travel risk makes headlines, we highlight some of the safest places in Mexico to visit—as long as travelers have a concrete plan in place to address threats.
By Joe Chafetz, Global Guardian Junior Intelligence Analyst
Tens of millions of people visit Mexico every year. From the beaches of the Mayan Riviera to the expanding business parks of Nuevo Leon, Mexico offers a range of attractive destinations tailored to both business and leisure clienteles. While traveling to Mexico can be an enriching experience in more ways than one, prospective visitors should be aware of the potential risks involved in their upcoming trip. As an intel analyst for Global Guardian, I work with these risks every day and have found that the single best way to stay safe and secure is to have a plan.
---
Facts on the Ground
The first step to a good plan is knowing the facts on the ground. The Mexican government has been embroiled in a decades-long conflict with multiple powerful criminal organizations known as cartels. These groups manage the flow of illegal drugs into the United States from South America, and as a result are well-funded, well-organized, and well... violent. The cartels compete with one another for control over the most profitable smuggling routes, and they routinely clash with government forces as the Mexican state tries to maintain security and impede criminal operations.
Mexico Cartel Map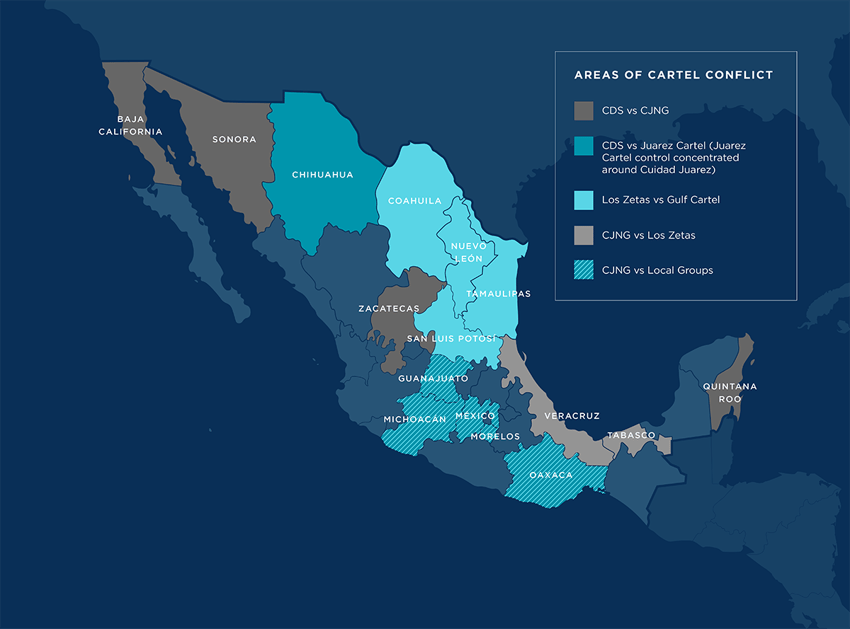 Over the past two decades, Mexico's strategy has largely centered on the 'decapitation' of the cartels. This consists of capturing organizations' leaders to disrupt their operations. While the state has been somewhat successful in this pursuit, it has had the unintended consequence of turning a few big cartels into lots of medium-sized cartels. These smaller organizations are faced with more competition for the same routes. In response, they tend to fight harder and more often with both the government and other cartels. Some groups, finding themselves pushed out of the best parts of the drug trade, have resorted to other revenue streams, such as kidnapping, carjacking, and extortion.
---
Mexico Travel Risk Advisories
Part of Mexico's draw lies in its wide variety of cultures, climates, and communities, but the security situation also varies profoundly from one locale to the next. The states closest to the U.S. border are some of the most dangerous due to their importance to the drug trade. Visitors should avoid unnecessary travel to most of the states that border the U.S. with some exceptions, such as the city of Monterey in Nuevo Leon. Regardless of destination, travelers should avoid crossing into Mexico via land routes, if possible, particularly at Reynosa, Ciudad Juarez, Nuevo Laredo, and Matamoros, where the risk of carjacking and robbery is especially high.
As recently as 06 March of this year two U.S. citizens were killed and two others kidnapped before their eventual recovery after their vehicle was attacked just a few miles south of the Texas border in Matamoros. While this particular episode was an instance of being in the wrong place at the wrong time, it illustrates the dangers present in crossing borders by land.
In general, it is best practice to stick to areas with large tourist presences and avoid driving through the surrounding rural areas. Though popular tourist destinations are safer in general, there are still significant risks that travelers should plan around.
Mexico Travel Advisory Map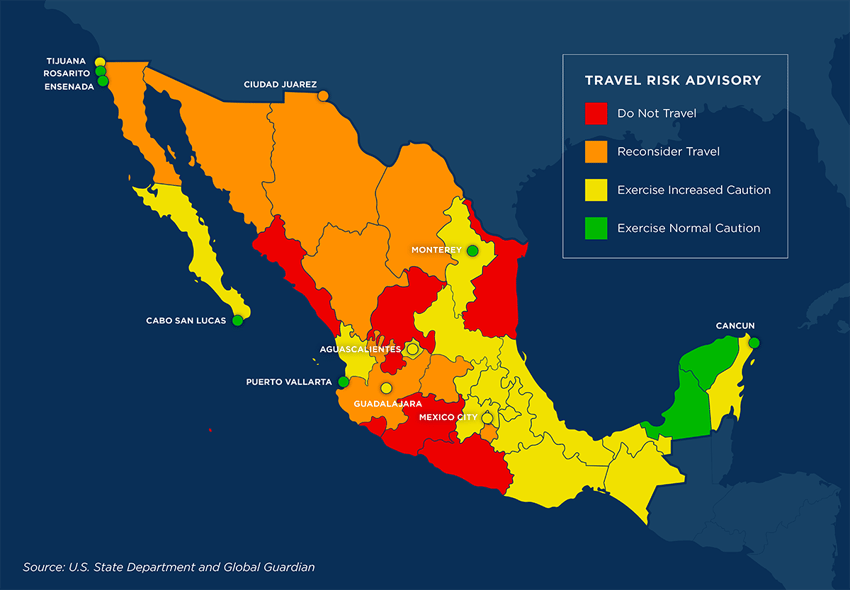 Is Mexico City Safe?

Exercise Increased Caution
Mexico City has a significant level of petty and violent crime. Tourists are much more likely to be subjected to opportunistic petty crimes such as pickpocketing, theft, and bag-snatching. These crimes are most prevalent on public transport and in public transport hubs in the neighborhoods of Colonia Doctores, Buenavista, and Centro Historico. Violent crime, including express kidnapping is most common in the Iztapalapa, Gustavo A Madero, Cuauhtemoc, and Venustiano Carranza neighborhoods.
Is Cancun Safe?

Exercise Normal Caution
Cancun is a celebrated leisure destination with several neighborhoods catering to tourists. El Central and Zona Hoteleras are generally safe, although pickpocketing and other forms of theft are common. The periphery of town, particularly in the north, is less policed and risks in these areas are elevated.
Is Guadalajara Safe?

Exercise Increased Caution
Guadalajara is situated in the state of Jalisco which is the site of significant conflict between cartels. The historical center is generally safe, but it the outskirts, and more bohemian neighborhoods like Tonalá carry increased risk of petty and violent crime. The highways surrounding Guadalajara, especially Federal highway 110 between Tuxpan and Michoacan, and Federal highway 80 south of Cocula, are dangerous due to higher levels of cartel activity, including checkpoints.
Is Tijuana Safe?

Exercise Increased Caution
In 2022, Tijuana was the 5th most violent city in the world. While most of this violence is the consequence of Tijuana's coveted position on the U.S. border, tourists and travelers can easily find themselves in the wrong place at the wrong time. Zona Norte is significantly more dangerous, regarding both petty and violent crime, than neighborhoods such as Zona Rio and Playas de Tijuana.
Is Baja California Safe?
Reconsider Travel
Baja California is home to the popular tourist destinations of Rosarita and Ensenada in addition to Tijuana. Both Rosarita and Ensenada (Exercise Normal Caution Travel Advisory) are significantly safer than Tijuana as they do not have a border crossing, and do not lie on trafficking routes. The risk of pickpocketing and other forms of theft, including police shakedowns when driving, is higher around these tourist areas. But the risk of more serious crimes such as kidnapping is highest in remote areas and near the border.
Information can help, Information can hurt
While staying up to date on local news is an excellent way to avoid trouble, and keeping friends and family apprised of your circumstances can help mitigate a bad situation, be careful about what you share and where. Mexico has one of the highest kidnapping rates in the world, in part due to the organization and opportunism of Mexican criminal enterprises. Virtual kidnapping poses a serious risk to travelers, even in seemingly safe tourist resorts. In a virtual kidnapping, criminals might steal a victim's phone and use personal information overheard at a bar or divined from social media to convince the victim's family that they have been physically abducted. Unable to contact their loved one, many families end up paying the ransom, only to find out later that the danger was illusory.
Another form of kidnapping common to urban areas in Mexico is express kidnapping. This is usually done by posing as a taxi or ride-share vehicle that drives the victim directly to an ATM and demands a large and immediate withdrawal. Sometimes this is done through the cooperation or coercion of a legitimate taxi where the kidnapper initially poses as a customer trying to split fare and share the ride. Express kidnappings typically target people leaving bars and people displaying overt signs of affluence, such as expensive headphones, jewelry, or high-end clothing.
Travelers can reduce the risk of kidnapping by avoiding conspicuous displays of wealth, flashing cash, or sharing a taxi with strangers, especially if intoxicated. Travelers should always verify the legitimacy of taxis through the use of local apps, if available, or through official taxi-ranks or reputable hotels and resorts. But, to be absolutely sure, use a vetted professional driver service.
---
Conclusion
Mexico is a fantastic vacation destination that consistently draws more American tourists than any other single country. The dangers outlined above are not meant to dissuade a potential visitor but rather to highlight the need to make reasonable preparations for their trip. Can you confidently answer the following questions: What will you do if you are kidnapped? What is your plan in the event of serious injury or illness? What will you do if you are the victim of a crime? If you don't have concrete answers, reconsider your vacation plans. You will hopefully never need to use your plan, but a vacation is meant to be relaxing, so plan ahead for peace of mind.
Looking for more for more in this series from our Intelligence Team? Click here to read Is it Safe to Travel to Europe? An Intel Analysts Guide to Visiting Europe.
---
stANDING BY TO SUPPORT
The Global Guardian team is standing by to support your security and medical requirements when traveling to and staying in Mexico, including:
Duty of Care Membership

Custom Intelligence

Executive Protection and Transportation

Air Ambulance Medical Evacuation

Kidnap, Ransom and Extortion
To learn more about our pre-trip and crisis response services, complete the form below or call us at + 1 (703) 566-9463.