---
While Europe remains a popular tourist destination, there are risks that travelers need to be aware of. Here, Global Guardian's intelligence analysts offer information and guidance for travelers who want to stay informed before their trip.
---
BY Joe Chafetz, Junior Intelligence Analyst & Zev Faintuch, Senior Intelligence Analyst



JUNE 16, 2023
INSIDE THIS ARTICLE, YOU'LL FIND:

With summer upon us and pandemic-delayed European vacations back on the docket, many travelers are asking, "Is it safe to travel to Europe now?" After all, with the war in Ukraine, protests in France, and strikes across the continent, it's a reasonable question. While Europe as a region is consistently amongst the safest in the world, there are huge discrepancies in security between different countries, cities, and even neighborhoods that travelers should be aware of. Regardless of one's destination, visiting an unfamiliar environment leaves travelers vulnerable to risks not encountered at home. These risks are compounded by language barriers, unknown customs, unfamiliar spaces, and criminals or opportunists who prey on the vulnerability of travelers.
Tourism is a major industry in Europe, and the beneficiaries are not limited to tour guides and hoteliers. Pickpockets, scammers, and thieves also cash in. There are roughly 5.7 million cases of burglary, robbery, and theft reported to European police annually. And those are just the cases that are reported. Aside from crime, there are safety concerns in Europe that stem from the region's politics and risk of terrorist attack.
---
TOP SAFETY CONCERNS IN POPULAR EUROPEAN CITIES
Europe is a large place with hundreds of attractive tourist destinations. But a few cities receive a disproportionate number of visitors and merit specific attention. These are the top five most visited cities in Europe and the areas to watch out for. It is important to note that in all of these cities, tourists are rarely targeted for violent crime. The most common crimes that tourists fall victim to are petty theft or other opportunistic crimes in major tourist areas, public transport, or crowded areas like public transportation hubs and markets.





1. LONDON




The most dangerous borough in London has consistently been Croyden.
However, tourists are more likely to find themselves in Hackney or Southwark, which also make the top five of London's most dangerous boroughs.



2. PARIS




The 19th arrondissement is generally considered the least safe. The area around the Stalingrad and Jaures metro stops, as well as Avenue Barbes, are best avoided at night.

Most pickpocketing and theft occur around popular tourist destinations, including the Eiffel tower, the Louvre, at Trocadero, and on bridges and quais along the Seine.



3. ROME




The Termini station and its surrounding areas can become

sketchy

at night, and the Trastevera area — including the piazza Trilussa — is known for occasional alcohol-fueled fights and opportunistic crime.



4. AMSTERDAM




Most of Amsterdam's violent crime is confined to the peripheries of the city. But the Redlight District, and the area around Centraal (the central public transportation hub) host drug traffickers, occasional alcohol-fueled fights, and opportunistic crimes.



5. BARCELONA




Barcelona, like Amsterdam, sees most of its violent crime confined to non-tourist areas.
The area along the beach, and the areas surrounding major tourist attractions such as the Sagrada Familia and La Rambla see the highest levels of pickpocketing. This analyst has even experienced this phenomenon first-hand.
The only European countries Global Guardian blanketly tells our clients to avoid, especially as American travelers, are Russia, Ukraine, Belarus, as well as eastern Moldova and southern Turkey.
---
What should an American traveler in Europe watch out for?
The cliché of the "Ugly American" has largely been supplanted by other "bad tourist" stereotypes. That is to say, anti-American sentiment is not likely to negatively affect peoples' vacations. But it is always best practice not to draw too much attention to one's tourist or foreigner status, as bad actors see American travelers as walking greenbacks who are naive and well intentioned.
To safely travel to Europe, Americans, and all foreign travelers, should keep an eye out for the following:
scams
The Petition Scam – This consists of a group or individual trying to get signatures for a "humanitarian cause." The scammers will approach the target and occupy their attention while a coconspirator pickpockets them. Real petitioners will have branded vests from known organizations and will ask for donations from a card outright instead of a signature.
Three Card Monty – Often set up near tourist attractions, the scammer has three cups and a ball or token under one of them. The scammer shuffles the cups around and will take bets from bystanders trying to guess which cup has the ball. There is typically a crowd surrounding the scammer and often a bystander will make and win the bet and walk away, making it seem as though the game is fair, easy, and lucrative. But the crowd consists of accomplices and when the victim attempts to make a bet, the ball is suddenly nowhere to be found. Attempts to get one's money back can be met by intimidation or violence by the scammer's associates.
The Bracelet/Gift – A scammer will set up a merchandise stand near a tourist attraction and attempt to engage victims in conversation. During the conversation the scammer will tie a bracelet or otherwise foist an item upon their victim insisting that it is a gift. However, if the victim tries to leave with the item the scammer will demand payment and will often call over other scammers operating in the vicinity to intimidate a victim into payment.
terrorism
Of course, the threat of terrorism, while less significant than even five years ago, should not be completely discounted. European cities crowded with tourists make attractive targets for violent non-state actors from ISIS to right-wing extremists. While terrorist attacks are difficult to prepare for, watching for precipitating events can help travelers lessen their potential exposure. High profile news stories such as Koran burnings, the adoption of staunchly pro or staunchly anti-immigration laws, or divisive events in countries that have large emigrant populations in Europe, are all examples of events that sometimes precede terrorist attacks or large-scale unrest. Keeping abreast of relevant developments can help tourists practice caution and stay safe.


Notable Incidents: 2018-Present
Haute-Savoie stabbing (June 2023, France): A knife-wielding assailant stabbed and injured six people in Haute-Savoie's Jardins de l'Europe area. Three of the victims were children. The attacker was detained by police.
Vienna attack (November 2022, Austria): A gunman opened fire in the city center of Vienna, Austria, killing four people and injuring 23 others. The attacker was later shot and killed by police. The attack was claimed by the Islamic State group.
Reading Park stabbings (June 2020, United Kingdom): Three people were killed and three others were seriously injured in Forbury Gardens, Reading, England.
Hallamshöjden shooting (June 2019, Sweden): An armed assailant opened fire on an open street in the neighborhood of Hallamshöjden, Malmo, killing three people and injuring three more.
Utrecht tram shooting (March 2019, Netherlands): Three people were killed and five wounded in a shooting on a tram in the city of Utrecht
Strasbourg attack (December 2018, France): A man attacked several people near the Christmas market in Strasbourg, killing five and injuring several others. The attacker was later killed by police.
---
IS IT SAFE TO TRAVEL TO EUROPE NOW?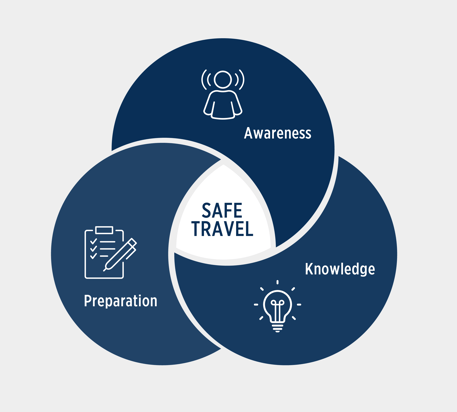 Yes. But part of the onus is on YOU, the traveler. Here are some simple steps to follow to mitigate the prospect of a trip-ruining – and possibly life-altering – untoward event.
Three Things to Consider
Awareness: Awareness is paramount to mitigating risk—and avoiding a potentially dangerous predicament. As a rule, it is always best to blend in when possible. Sticking out – by being loud or wearing very different or expensive-looking clothing – can make someone into a target for theft or worse. In general, don't walk alone at night. If you're in a crowded space, indoors or outdoors, always know where the nearest exit is. Finally, most crimes are opportunistic. Traveling in a group deters most petty criminals from targeting you.
Knowledge: Take 20-30 minutes researching your planned destinations. Get a sense of what's going on politically and pay attention to front page news stories. While you're at it, check your healthcare coverage, and make sure to bring your medications in their original, name-identified bottles, as some prescriptions (for depression, anxiety, ADD, and painkillers) won't be available to refill. If you know a local, ask them about areas or places to avoid or practice caution. Just like in North America, the summer in Europe is wildfire season, so be on the lookout, especially for destinations in the south, for heat warnings as they often precede fires that could create adverse health conditions or disrupt flights and other transportation.
Preparation: Our unofficial motto here at Global Guardian is "have a plan." Know where to go if your passport is lost or stolen and write down critical phone numbers, addresses (think embassies or hospitals, locals you know) or health card information on a piece of paper (but don't include any passwords, social security numbers or anything else that could compromise you) in the event your phone is stolen. Labor action is practically a national sport in many European countries, making strikes affecting public transportation possible. Have a backup plan for getting from one stop to the next – you won't be the only person scrambling to get a ride-sharing service, train, flight, or boat in the event your primary mode of transportation is delayed or cancelled.
---
Ultimately, summer travel to Europe can be as safe as you make it. If you know what to look for, where to avoid, what to do in certain situations, pay attention to the news, and have a plan in place for untoward events, you can insulate yourself from the vast majority of travel risks. But if you are apprehensive, having trouble figuring out where to start your preparations, or would like specific advice and recommendations, travel security firms can be a powerful resource. From stolen passports to terrorist attacks, firms of this nature also have the capability to assist you in real-time for almost any issue that may arise as you visit the places on your bucket list.
StandinG By to Support
The Global Guardian team is standing by to support your security and medical requirements when traveling to and staying in Europe, including:
Duty of Care Membership

Custom Intelligence

Executive Protection and Transportation

Air Ambulance Medical Evacuation
To learn more about our pre-trip and crisis response services, complete the form below or call us at + 1 (703) 566-9463.