Since the beginning of history, the biggest threats to our species have come from famine, disease, and war. Unsurprisingly, the COVID-19 pandemic follows this long line of world-changing events, but with a twenty-first century spin. Rapid globalization and urbanization – the two drivers that have largely pacified the modern threats of famine and war – have transformed a local disease outbreak into a global crisis.
The velocity and magnitude of this semi-symmetric public health and economic shock are unprecedented, threatening lives and livelihoods across the world. With over three million confirmed cases and nearly 250,000 deaths, the coronavirus-driven collapse of activity will mark the steepest downturn since the Great Depression of the 1930s. The path forward is marred by uncertainty as experts grapple with incomplete data. Few things are certain, but what we can expect is an acceleration of many of the global trends previously at play, namely de-globalization, Sino-American tension and instability in the global South.
In this report: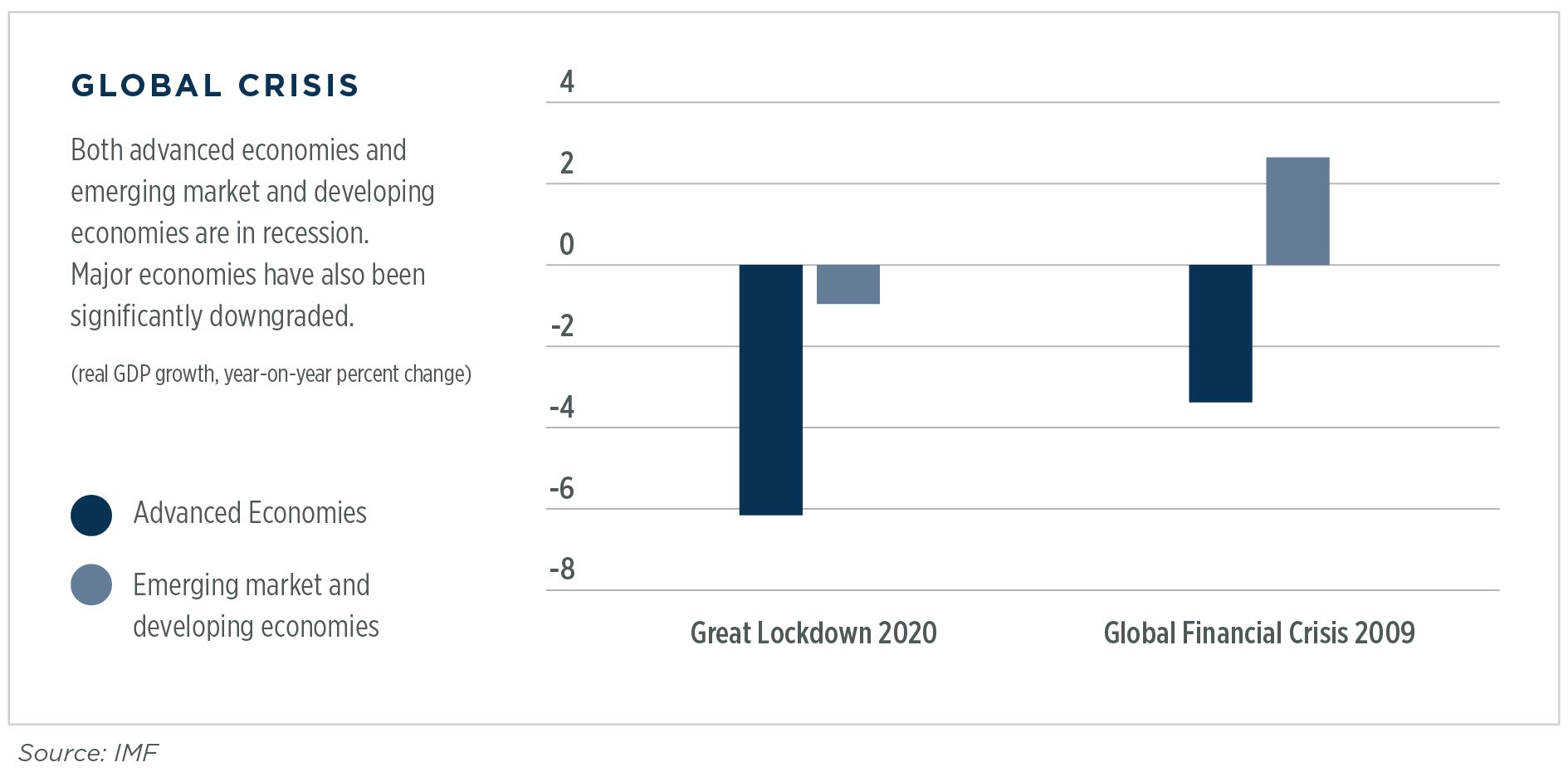 Countries have adopted widely different responses with varying results. So far, one of the few predictors of relative short-term success against the virus has been the speed of government response to the pandemic. However, only with the benefit of hindsight will we fully understand the most effective public health strategy and the optimal balance of epidemiological and economic concerns.
For most countries, the main short-term objective is to stem the spread of the pandemic – buying time to bolster medical capacity and finding effective treatments to limit the damage until ultimately a vaccine is found. Diminishing the virus' effective reproduction number (R) is central to this end. R is a measurement of how many people the average infected person goes on to infect: if R is above 1 the pandemic spreads; below 1 it shrinks. To decrease R, governments have three levers at their disposal:
Identification and Isolation: Early identification of cases to trace and quarantine their contacts. A mass scale testing regime is required in conjunction with a system of contact tracing. Even with robust implementation, without border restrictions and adequate social controls, R can resurge.
Border Restrictions: Limiting the entry of non-residents and isolating (quarantining) all returning residents to a particular area. Residents are easier to track, trace, and monitor for infection to prevent an increase in R.
Social Measures: Physical distancing, a blunt tool used by governments to "flatten the curve." Limiting interpersonal contact in a population prevents the R from increasing while limiting the exposure of the uninfected, especially the more vulnerable, population. These measures include shelter-in-place orders and limits on gathering sizes and businesses.
different approaches
The Four Asian Tigers (Hong Kong, Singapore, South Korea, and Taiwan) were early to identify and isolate cases. Singapore's second wave of cases illustrates why these three levers must be pulled together to prevent major flare ups.


Australia and New Zealand are opting to eradicate the virus. These nations instituted early and strict lockdowns; have scaled their testing regimes and have sealed their borders to travel. Australia's borders will be closed for three to four months and New Zealand may even bar travel until a vaccine is developed.


Sweden has taken a radically different approach by not pulling the social measures lever as hard as others. Schools, restaurants, and malls have remained open, while the government has issued social distancing guidelines, banned gatherings of more than 50 people, moved most high school and university teaching online, and advised residents not to take unnecessary trips. The idea behind this strategy is to smooth the distribution of cases and deaths over the period between the beginning of community spread and the vaccine development while preventing the halt of its economy. Sweden has let the virus spread in younger people – who are less at risk to severe illness – while "cocooning" more at-risk patients. If those who are infected develop immunity to the virus, when a certain threshold of population or herd immunity is reached, then the R will decline. A high level of immunity will also prevent flare ups as it hinders the ability of the virus to quickly reproduce.
in the short-term, we can expect:
Extended border restrictions: Other island nations could follow Australia and New Zealand's lead or if subsequent infection waves emerge, countries could reinstitute travel bans. Accordingly, global travel will see heavy disruptions, impacting the flow of people and goods.


Limits on gatherings to continue: These can be eased when active infections fall to one active case per million residents. This will be a key metric to decide when to ease or reinstitute social distancing guidelines. Large public gatherings will not return for months.
the current environment
economic impacts
In March 2020, the world fell into a steep recession as travel halted and countries began to lockdown. Many governments now face multiple crises—a health crisis, a financial crisis, and a collapse in commodity prices. The United States is currently challenged with over 30 percent unemployment, disproportionately impacting lower wage jobs. Globally, the International Labour Organization (ILO) predicts that one-third of the global workforce could suffer financial hardships including layoffs, hour reductions, and wage cuts.
Across the globe, policy makers are scrambling to weave together a safety net to catch households, firms, and financial markets from falling too far, in an attempt to preserve the demand on which the global economy needs to rebound. Tourism, travel, hospitality, and entertainment are experiencing particularly large disruptions and some sectors may never fully recover. There is uncertainty surrounding what kind of economy will emerge in the coming months – many firms, especially small businesses, will not survive this crisis.
By the end of the year, the International Monetary Fund (IMF) projects the global gross domestic product (GDP) to contract by three percent if the COVID-19 pandemic recedes by the second half of the year, though the lack of complete data on the spread of the virus adds a large degree of uncertainly to all forecasting models. This crisis marks the first time since the Great Depression that both the developed and developing economies are projected to contract. The global demand shock has prompted a severe oil glut as global and domestic oil prices plunge and producers are forced to make serious cuts. Low global oil prices mean those nations heavily reliant on oil revenue for their budgets will have limited ability to service debt, support domestic programs, and manage a safety net for those economically affected by the pandemic lockdown. This could lead to additional social unrest and deeper economic recessions in countries like Venezuela, Russia, Saudi Arabia, Kuwait, Iraq, Iran, and Mexico.
security situation
With many countries extending their public health measures over the coming weeks, the economic impacts of the pandemic are likely to intensify, which could further fuel anti-government sentiment and raise the risk of additional protests, labor actions, riots, and even violence. While violent crime is broadly down in major cities across the globe due to lockdown measures, domestic violence and cybercrime are on the rise globally. There has been a marked uptick in phishing emails, malware, ransomware, and fraudulent/scam emails targeting people concerned about COVID-19. Hacking groups are taking advantage of the hundreds of millions of people now working remotely by bombarding systems and inboxes looking for a way into corporate and government networks.
VPNs and next-generation firewalls will be critical, especially for executives working remotely with sensitive company information.
In the United States, there has been an uptick in auto theft and commercial burglaries as there are fewer store owners and bystanders present to deter would-be thieves. As panic-buying fuels scarcity, food and other basic consumer goods might fetch higher prices. Looting has been reported in Mexico since the onset of the pandemic as economic hardships continue to mount. Cargo theft, which is already rampant throughout much of Mexico and southeastern Brazil, could potentially increase further in the weeks and months ahead.
As the global economic recession deepens, people on the margins of society and in those countries without adequate safety nets may become desperate, turning to crime to survive. Families and businesses should consider armed guards and video surveillance of properties to ensure safety during upcoming periods of social decay.
Criminal Organizations – like their legal counterparts – have also been especially hard hit by the economic fallout of the lockdown measures. Social distancing and border closures have disrupted their supply chains and revenue streams. Feeling the squeeze, criminal outfits are adapting to the new reality, finding new ways to generate revenue. In Mexico, reported kidnappings in March increased by five percent over February with the volume of abductions increasing by fifteen percent, indicating that mass abductions are becoming more common. In recent weeks, drug trafficking organizations have reportedly encountered difficulty procuring the precursor chemicals for synthetic opioids. As such, production of fentanyl and methamphetamine has slumped, increasing violent competition over remaining supplies of chemicals.
Families and firms with homes, offices, and facilities abroad should consider enhanced security posture in the next 3-6 months, including 24/7 armed guards, site-wide video surveillance, and dedicated secure transportation for any travel, especially in high-crime regions such as Latin America.
The pandemic has caused a global travel shutdown as almost every nation has enacted various restrictions, from complete border closures, to partial airport shutdowns and suspensions of international and domestic flights. This has led to bottlenecks in the global supply chain and severely restricted air freight capacity. A second-wave or resurgence of cases in the Fall and through 2021 could lead to similar emergency declarations by countries, stranding travelers without commercial options to depart.
Last-minute, nation-wide shutdowns in countries like Peru and Honduras led to the stranding of expats and travelers as commercial flights were suspended without notice. Global Guardian arranged private charter flights to repatriate travelers stuck in these countries.
geopolitical fallout
Like the many global crises that preceded it, the COVID-19 pandemic will lead to long-term shifts in political and economic power in ways that will only become apparent in retrospect. Naturally, many people wonder if this crisis will be an inflection point in modern history. While the coronavirus pandemic will certainly engender global change, it will not bring about a change in direction but, rather, an acceleration of our present course. These trends include de-globalization, Sino-American tension, and mass unrest.
de-globalization
The starkest realization to emerge from the pandemic is the recognition that global supply chains are deeply vulnerable to disruption. Offshore manufacturing and limited domestic warehousing will be reimagined. Between rising Chinese labor costs; technological advancements in robotics, automation and 3D printing; rising trade barriers; and the looming job losses, companies will rethink the multi-country supply chains that dominate production today. As we emerge from the pandemic, both companies and consumers will want products to be sourced more transparently and will be willing to trade economic efficiency for redundancy. What's more, the pandemic has highlighted to governments that it is simply too risky to rely on other nations for medical supplies and equipment. We expect governments to pressure strategically vital industries to increase domestic production and reserves.
In all polities, there is already a turning inward, a search for autonomy and control of one's own fate. This event has underscored that in times of crisis, self-help is called for. Previous plagues—including the influenza epidemic of 1918-1919—did not usher in a new era of global cooperation. Neither will COVID-19. Even the European Union (EU) – the world's most ambitious internationalist project – was painfully slow to come to Italy's aid, and serious questions remain over how the EU will jointly overcome the coming financial difficulties. In addition to the World Health Organization (WHO) that has recently come under fire from Washington, other international fora including the World Trade Organization (WTO) will soon feel the effects of a push towards de-globalization.
sino-american tension
In Washington, there is only one issue that transcends partisan lines: China. The idea of "decoupling" the two economies had gained considerable traction before the pandemic, driven by Chinese espionage, intellectual property theft, unfair trade practices, and human rights abuses. The great fear in the United States that it was becoming reliant on China for essential goods has been realized. The current administration holds the Chinese government responsible for the pandemic due to its cover-up and inaction, knowingly allowing thousands of infected people to leave China and spread the virus farther. China's attempt to use this moment as an opportunity to expand its influence around the world will only add to American hostility. In the lead up to the 2020 US presidential election, it is possible that the candidates will compete over who has the tougher stance on China.
unrest
In 2019, social unrest surged across the globe. As countries end their lockdowns these protests movements will reignite. Protests have already resumed in Lebanon and Hong Kong. This is barely the tip of the iceberg. Major capital flight from emerging and frontier markets to safe havens is already underway, putting severe downward pressure on struggling currencies. Across the developing world, the combination of low commodity prices and high public expenditures to combat the effects of the pandemic will result in severe debt servicing issues and sharp increases in the costs of importing vital food and medical supplies. Experts predict that up to 265 million people could be at risk for famine by the end of the year as the coronavirus pandemic strains supply chains, agricultural production, and national economies. Over the long term, the pandemic will likely significantly reduce the productive capacity of the global economy, especially if businesses close and individuals detach from the labor force. This risk of dislocation is especially great for developing nations and resource-based economies, resulting in instability and widespread unrest within and across countries.
covid-19 resources AND SUPPORT
As we continue to navigate the current pandemic, the Global Guardian team is standing by ready to support. For the latest updates, resources, and support regarding the COVID-19 pandemic, visit our dedicated newsroom.
To request security or assistance with any of the below services, contact our 24/7 Operations Center by emailing us at operationscenter@globalguardian.com or calling + 1 (703)-566-9463.