December marked the launch of the world's first COVID-19 vaccination program, first in the U.K., followed by the U.S. and Canada. The vaccination efforts kicked off a global effort to end the pandemic that has killed more than 1.5 million people in less than a year. In other parts of the world, vaccine trials are showing promise.
"We should be optimistic, at the same time we have got to understand that there is going to be some rough road ahead," said Global Guardian CEO Dale Buckner. "As the world opens up, it comes with its challenges."
One of these challenges, Buckner said, is that while the vaccine will be distributed quickly in the United States, Western Europe, and wealthy countries in Asia, in other parts of the world distribution will be "very difficult and slow."
"This isn't going to be easy and it is not overnight. As much optimism as we all should have, at the same time pause to think about the logistical problems we are going to have getting this to be global. It is going to take some time," said Buckner.
While the pandemic continues to dominate our lives (and the headlines), other big stories are simmering just beneath the surface. Global Guardian hosted a webinar to discuss these challenges with the Global Business Travel Association (GBTA).
---
Global Unrest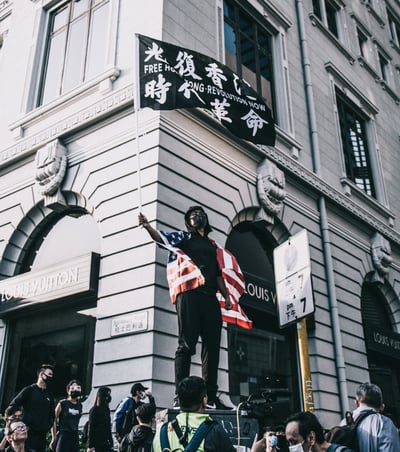 Over the past year, we have seen unrest and upheavals — albeit somewhat dampened by pandemic-related restrictions — around the world, including in the United States. For example:
China rammed through a controversial national security law in the face of massive protests that have been ongoing in Hong Kong since June 2019. The law reduces Hong Kong's autonomy and criminalizes secession, subversion, terrorism, and collusion.
In Belarus, massive anti-government protests have been ongoing since August when the country's president, Alexander Lukashenko, who has been in office since 1994, claimed to have won another term in an election against popular opposition candidate Sviatlana Tsikhanouskaya.
In Chile, an overwhelming majority voted to rewrite the constitution, which dates to the military dictatorship of Gen. Augusto Pinochet.
In Thailand, thousands of protesters have been demanding the resignation of the prime minister and reform of the monarchy since the summer.
In Nigeria, huge protests broke out against the abusive Special Anti-Robbery Squad (SARS) in October.
"In 2021, you are going to see some of this boil back up," predicted Michael Ballard, Global Guardian's Director of Intelligence.
Mike McGarrity, Vice President of Global Risk Services at Global Guardian, said the pandemic has heightened economic disparities, which has spurred discord.
While pandemic-related travel restrictions and border closures have restricted the movement of foreign fighters from Syria, they have also prevented migrants waiting in Southern Europe from reaching their final destinations. "As those travel restrictions are lifted… you still have that economic uncertainty, which is obviously going to cause more unrest," McGarrity said.

Another Terrorist Attack in Europe?
If there is a silver lining to the COVID-19 pandemic it is that it has reduced acts of terrorism around the world. As countries shut their borders in an effort to curtail the spread of the virus, and international travel ground to a halt, the movement of terrorists has also been affected.
Despite a couple of highly publicized incidents carried out by "lone wolves" in France and Austria, which promoted the United Kingdom to raise its threat level to severe, Ballard said terrorism has not been a major issue in Europe in 2020. That is likely to change.
While the Islamic State (ISIS) has been militarily defeated in Iraq and Syria, Ballard said its fighters and radical ideology remain. He said that once the pandemic ends and people start to move more freely, it is very likely that former ISIS foreign fighters will start making their way back to Europe to recruit and try and foment plots.
Ballard predicts that it is "only a matter of time before you see another major incident" like the attacks in Paris in 2015, in Brussels in 2016, and in Manchester in 2017.
Arab Normalization
Over the past year, three Arab states — Bahrain, the United Arab Emirates, and Sudan — have normalized relations with Israel. The states have grown closer over the fact that they all view Iran as a threat.
Normalized relations opens the door to economic and trade co-operation, said Ballard. Further, he predicted "a possible domino effect" of recognition of Israel from other countries in the region. In what may be a sign of things to come, Saudi Arabia agreed in November to allow Israeli aircraft to use its airspace to fly to the UAE.
"You're going to have more cooperation, less radicalization, less finger-pointing, less creation of blanket enemies… and the leadership in some of these countries [in the Arab Gulf] are not going to be able to just point at Israel as the cause of all of their problems," said Ballard.
Ballard sees a "potential generational shift in attitudes" in the region, which can have some long-term positive effects. On the flip side, he said, the thaw between the Arab states and Israel is in part the formation of an alliance against Iran. "So, you could see Iran potentially lashing out at some of these countries," he warned.
Police: Defund or Reform?
Over the summer, protests erupted across the United States against police brutality that resulted in the deaths of African Americans. The Black Lives Matter movement grew as did calls to defund the police. But defunding the police is not the answer, said McGarrity.
Buckner agrees. He suggested that a priority should be placed on providing police with proper de-escalation training and nonlethal options. "If all we do is minimally train them, put them out on the street, and the first time they are put in a situation where they feel threatened the only option they feel in that moment of fear for their life is a lethal option with a weapon, we have set them up for failure," said Buckner.
"The solution here is training, manning, and equipping properly and valuing how difficult this job is and how much more we need to invest," he added.

Growing Cyber Threats
The pandemic has forced people around the world to work (and attend school) from home. This often means relying on networks that are inadequately secured and, as a result, more vulnerable to hackers. This is true as much for schoolchildren as it is for C-suite executives. Children are "attack vectors, not just for the terrorists, but also for the cyber threat actors" who use them to access their parents' accounts, said McGarrity.
The FBI and the Justice Department have seen a spike in criminal activity related to the pandemic, specifically cyber and ransomware attacks. "Where there is a catastrophe, where there is a natural disaster, there is going to be increased fraud," said McGarrity.
Noting that more money in the United States is robbed every year as a result of cyberattacks than bank robberies, McGarrity emphasized the importance of safeguarding one's assets with virtual private networks and firewalls.
Is it Safe to Travel to Mexico?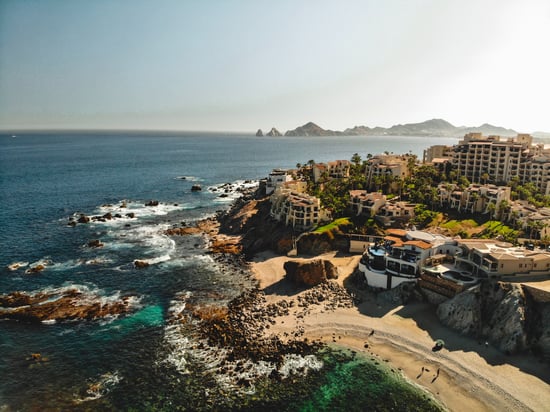 In Mexico, "the corruption, the control of the cartels, continues to be a significant problem," said Ballard. "The war on drugs, the war on the cartels hasn't really worked."
In October, Mexico's former secretary of defense, Gen. Salvador Cienfuegos Zepeda, was arrested in the United States on drug and money laundering charges. While the United States later released Cienfuegos and dropped the charges, his arrest showed "how far-reaching the corruption is in Mexico. It goes all the way to the top of their national defense infrastructure," said Ballard.
Drug-related crime and kidnappings are also on the rise. While official estimates put the number of U.S. citizens kidnapped in Mexico annually between 250 and 350, Buckner estimates the number is in excess of 500. Making the point that U.S. demand for drugs has fueled the illegal trade from Mexico, which has led to widespread corruption and violent crime, Buckner said: "At the macro level, here's the fear: Mexico has hit a tipping point where it is a narco-state forever."
Buckner advises those preparing to travel to Mexico to be armed with on-the-ground knowledge and a good dose of caution. "We are proponents of saying… if you handle this properly, you can travel to Mexico and you can do it safely," he said.
Buckner advises travelers should not make themselves an easy target for criminals. He suggests avoiding taking taxis, staying in safe areas, and having clear policies about what to do in case of an emergency.
An Evolving Duty of Care
Buckner insists that the COVID-19 pandemic is not an anomaly. "We have to acknowledge that these major global disruptions are no longer once or twice a decade," he said. As a result, Buckner said, "the definition of the term duty of care has to be redefined."
He related how when the pandemic broke out early in 2020, 50,000 U.S. citizens were stuck around the world, and it took three months to get them back to the United States ostensibly because countries shut down.
When the airspace is closed or a country's border is closed that doesn't mean one can't leave the country, said Buckner. "You can still have people negotiate on your behalf to get your clients out of that country," he said. "There is always an opportunity… to get exceptions to policy."
Buckner said the pandemic had shown the problem with relying on U.S. embassies to get U.S. citizens out of difficult situations. Any policy that pins its hopes on embassies is "misguided," he said, adding: "Embassies are not manned, trained, or equipped to deal with mass-scale evacuations."
Further, Buckner said, the response from the federal government and the airlines to the pandemic has been incoherent. "Travel comes down to trust and confidence… Until we have one standard that creates confidence, this will continue to be a mess," he said.

Going into 2021, Buckner has some advice for the international travel community: prepare for the next pandemic. "We should fix these policies and we should set our travel systems up so that when the next pandemic hits we don't go through this again," Buckner said.
STANDING BY TO SUPPORT
Global Guardian's 24/7 Operations Center can support any of your travel security and safety needs. To learn more about membership options and customized security services, click below or call us at + 1 (703) 566-9463.