Join us for our upcoming webinar: 'One Country, Two Systems: A Special Webinar on the Status of Hong Kong' on Wednesday, June 24 from 3:00 pm to 4:00 pm EST.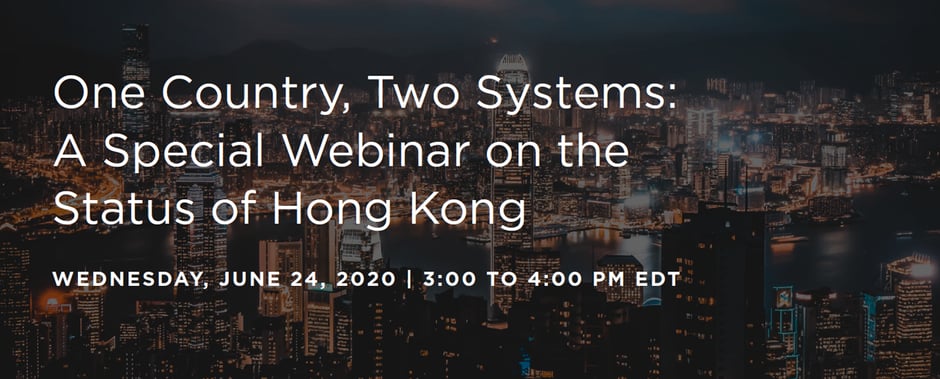 Last month, China's top legislature adopted a resolution to tailor-make a national security law for Hong Kong that is expected to be promulgated into Hong Kong law within the next month. The legislation will ban "secessionist and subversive activity" (protests) as well as foreign interference and terrorism. The new law will also give Chinese intelligence and security agencies free reign to operate directly in Hong Kong. The national security law marks a major shift from Beijing's "One Country, Two Systems" principle. Since the announcement, daily protests have occurred; and the Hong Kong government has leveraged its social distancing rules as a legal means to bar protest and arrest demonstrators.
Join Clifford Hart, Former Consul General to Hong Kong, and the Global Guardian team for a special webinar on Wednesday, June 24, where they will discuss China's recent actions in Hong Kong and how they will impact Hong Kong's future, especially in relation to business.
ABOUT THE SPEAKERS

CLIFFORD HART
Former consul general to hong kong
Ford Hart helped to administer U.S. China policy at the White House, the State Department, the Pentagon, and for extended periods in Greater China over a 33-year diplomatic career. His final posting was as Consul General to Hong Kong, an ambassadorial-level position, and he served as the National Security Council's China Director.
Ford was the Special Envoy for the Six-Party Talks on North Korean nuclear weapons, for which President Obama accorded him the personal rank of ambassador. At the Pentagon, Ford was foreign policy advisor to the Chief of Naval Operations.
Ford is a Director of HLS Asia, a North American firm that markets products in China and elsewhere in Asia. He also is Senior Advisor to Bower Group Asia, a government relations consultancy. Ford is a frequent speaker on foreign policy, including for Goldman Sachs, Citibank, and Forsyth Barr.
In addition to three diplomatic postings to Mainland China and his appointment in Hong Kong, Ford served overseas in the USSR, Iraq, and Taiwan. At the State Department, he also worked on Asia regional policy, Taiwan, Kazakhstan, crisis management, and post-conflict stabilization.
Ford is a member of the Council on Foreign Relations and the Wellington Club. For Ford's analysis of Chinese politics, the State Department gave him its highest award for diplomatic reporting, and the American Chamber of Commerce in Hong Kong conferred on him its award for championing women in business.
Ford holds a master's degree from the University of Virginia. He resides in Wellington with his partner, Ms. Gabrielle Rush, a New Zealand diplomat.
---
DALE BUCKNER
Chief executive officer/president, Global guardian
Dale Buckner is the CEO of Global Guardian and has been leading Global Guardian since its inception in March 2012. He is a decorated Combat-Commander with multiple combat tours and classified operations in Iraq, Afghanistan, Colombia, Haiti and Cuba and executed deployments to Russia, El Salvador, Honduras, Chile, Panama, Kuwait, and Qatar. Dale served in the United States Army Infantry (9 years), Military Intelligence (2 years), and Special Forces Green Berets (13 years). He commanded 5 organizations including an Infantry Reconnaissance Platoon, Special Forces Scuba Team, Special Force Counter-Terrorism Team, a Special Forces Counter-Terrorism Task Force, and a Special Troops Battalion. Dale has Bachelor's degrees in Criminal Justice and Business, Master's degrees in Public Administration and Business Administration, a Masters Certificate in Strategic Leadership from Cornell and was a Senior Fellow at the Tufts University School of Law and Diplomacy. Dale earned a total of 27 awards and decorations highlighted by his combat Bronze Star Medal and Defense Meritorious Service Medal.
---
MICHAEL BALLARD
DIRECTOR OF INTELLIGENCE, GLOBAL GUARDIAN
Michael currently manages Global Guardian's intelligence network with international partners. He is responsible for all Global Guardian intel report updates and provides customized reports to clients on a variety of topics and locations. Prior to joining the Global Guardian team, Michael was the former lead intelligence analyst for the North American region at UnitedHealth group. He holds a Master's Degree in International Affairs from the University of Kentucky, and Bachelor's Degree in History from the University of Mary Washington.
---
BRIAN RAYMOND
Vice President of BUSINESS DEVELOPMENT, GLOBAL GUARDIAN
Brian is Global Guardian's Vice President of Business Development and is responsible for acquiring new clients and managing business relationships. He is a retired Central Intelligence Agency (CIA) Senior Operations Officer and spent 21 years in the Directorate of Operations, where he was recognized as a Counterterrorism and Crisis response expert. Brian was a Commander US Navy Reserve (SEAL) and retired after 23 years of service. Brian holds his Bachelor's of Science from Norwich University.