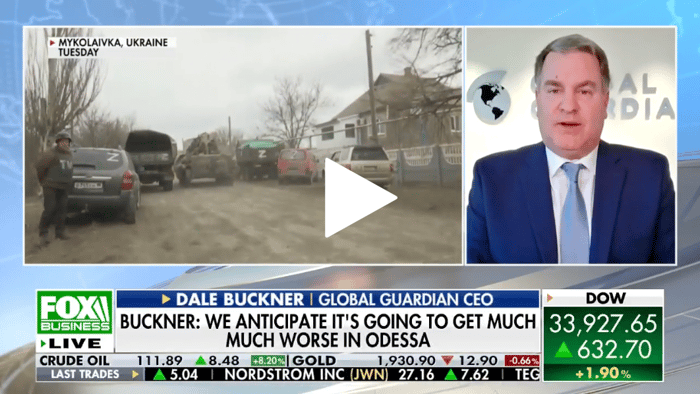 "We're at a point at day seven, going on day eight now, where we had freedom of maneuver a week ago that we simply don't have anymore. This is all about patience....We're not thinking in days and weeks right now, we're thinking in months as this ebbs and flows, and we're going to adjust to the threat and everything that comes with the conflict itself."
In a recent interview on The Claman Report on Fox Business, President and CEO Dale Buckner discusses Global Guardian's evacuation efforts of corporate clients and their families in Ukraine, including how logistics are evolving as conditions on the ground change amid Russia's advancements.
---
ABOUT GLOBAL GUARDIAN
Global Guardian is a McLean, VA based global security firm that provides its clients with access to a comprehensive suite of security services. Its capabilities include personnel tracking supported by a dedicated 24-hour Operation Center, a full range of personnel-based security and executive protection services, medical support and transportation, travel intelligence and emergency response and evacuation services in over 125 countries. Global Guardian's suite of risk mitigation services provides organizations with innovative and cost-effective solutions to help them protect their staff and business operations around the world.
Find out how our team can support your security needs. For assistance, call our 24/7 Operations Center at 703.566.9463 or click below.