In our recent webinar, "Navigating COVID-19 & Business Operations Remotely in India", Global Guardian's CEO Dale Buckner, Director of Intelligence, Michael Ballard, and Protexx Risk Management's Zane Wilmans discussed a variety of topics, including supporting your remote workforce, business travel and medical considerations, on-the-ground operational realities, and the China and India Border dispute. Below we recapped the top questions that were discussed during the webinar.
Q: What is the state of the COVID-19 pandemic in India?
COVID-19 cases are rising sharply in India. As of late July, India had the third-highest number of cases (1.4 million) after the United States (4.2 million) and Brazil (2.4 million). In terms of number of deaths, India ranks sixth in the world with more than 32,000 dead. India's major metropolitan cities—its capital New Delhi, Mumbai, Bengaluru, and Chennai—are currently pandemic hot spots. Hospitals face an acute shortage of beds and doctors.
Given the rapid rate at which the disease is spreading, Zane Wilmans, India-based Managing Director of Protexx Risk Management, predicts India is on track to have the world's highest number of cases.
Mike Ballard, Director of Intelligence at Global Guardian, said: "The situation is pretty bad there… cases are just going up and up and up, and that is with limited testing." Testing is critical to ensure accurate data. The public statistics likely do not tell the real story because of the low rate of testing in India. Ballard said India's testing rate is 10 times lower than that of the United States. "It is safe to assume that the 1.2 million cases that they have officially reported is probably off by a magnitude of 10 at least," he said. India's large size and the fact that at 1.3 billion people it is the world's second-most populous nation have only heightened the challenge of testing for the novel coronavirus, which causes COVID-19.

Q: How will the monsoon season impact the prevailing health crisis in India?
The monsoons have arrived in India. The annual rainy season brings waterlogged roads, logistical challenges, and mosquito-borne diseases like malaria and dengue. The spread of these diseases means more people will require hospitalization, said Zane Wilmans, Managing Director at Protexx Risk Management. He pointed out that malaria, dengue, and COVID-19 have similar symptoms.
Q: How has India responded to the pandemic?
The first COVID-19 case in India was detected on January 30. Almost two months later, Indian Prime Minister Narendra Modi ordered a three-week lockdown. Thousands of migrant workers were left out of a job, homeless, and hungry. In the absence of public transport, many were forced to walk hundreds of miles to return to their villages.
Mike Ballard, Director of Intelligence at Global Guardian, said regional lockdowns have not worked. "You just have too many people in single locations and so those locations are essentially keeping the spread in one area—almost like quarantining a cruise ship" and so people in confined spaces are infecting each other, he said.
Zane Wilmans, Managing Director at Protexx Risk Management, said: "The Indian government started off in good earnest and tried to do the lockdown, but the numbers just carried on climbing."

Wilmans said the private sector has taken a back seat in the face of the pandemic as it wants to avoid its hospitals becoming COVID-19 hot spots. The public sector's response, meanwhile, has been hamstrung by a shortage of doctors and hospital beds. Wilmans said that there are on average 11,000 people to one doctor in India's large cities; the numbers in the villages are far worse.
States in India, much like in the United States, are implementing their own responses to the pandemic. "They are doing localized lockdowns," said Wilmans. Kerala, a state in southern India which had initially been praised for its pandemic response, is now considering another lockdown as COVID-19 cases have surged with the return of many people from jobs overseas, particularly from the Middle East.
The Indian government has prioritized the development of a COVID-19 vaccine and has set an ambitious rollout date of August 15—India's independence day. Experts say this short timeline is both unrealistic and dangerous.
Q: Why is the contact tracing app controversial?
The Indian government has utilized a great deal of technology in response to the pandemic. Global Guardian Chief Executive Officer Dale Buckner said the government should be given credit for the way in which it has leveraged technology.
Controversy is swirling around one such piece of technology, however. The Aarogya Setu contact tracing app—which means "bridge to health" in Sanskrit—uses a phone's location data to let the user know if they have been near a person infected with COVID-19 by scanning a database of known cases of infection. The app is mandatory for airline passengers.
Zane Wilmans, Managing Director at Protexx Risk Management, said the app is "very, very invasive." Citing research done by his firm, he said: "Once it is on your phone, it has the ability to look at everything that you have." That is something "to keep in mind, but it is something, unfortunately, that people are going to need to use," he added.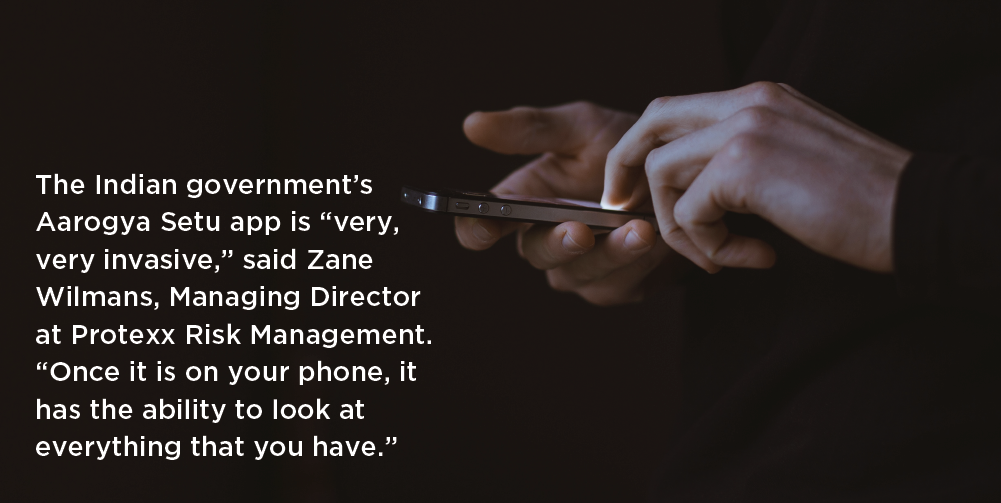 Q: What restrictions are there on movement within India?
Much like in the United States, the central government and the states in India have their own rules. People traveling from one state can sometimes be quarantined in a different state. The government of India has introduced the e-Pass for people to get around during the pandemic.
If your employees are traveling from one state to the next they will require an e-Pass. Zane Wilmans, Managing Director at Protexx Risk Management, said the e-Pass has its share of problems. It sometimes takes a long time to get an e-Pass, "it can be hit and miss," he said.
Further, Wilmans said, regulations are constantly changing in India. He recommends that clients doing business in India retain a local lawyer to monitor these changes. This, he said, will ensure there are few delays in doing business.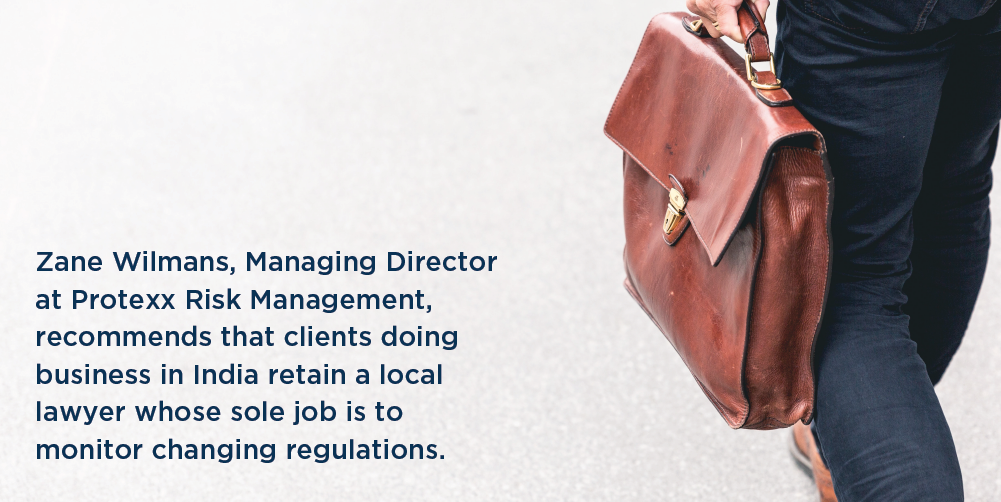 Q: What are the restrictions on international travel?
On July 23, India opened up "air bubbles" between the United States, the United Arab Emirates, Germany, and France. "These travel corridors will be very tightly controlled and there will be a lot of oversight," said Global Guardian Chief Executive Officer Dale Buckner.
Under the "air bubble" agreement, Air France is operating flights between New Delhi, Mumbai, Bengaluru, and Paris until August 1. And United Airlines is operating flights between New Delhi, Mumbai, Newark, and San Francisco until July 31. Mike Ballard, Global Guardian Director of Intelligence, said these are essentially repatriation flights.
Indian citizens and holders of Overseas Citizen of India (OCI) cards can fly into India on these flights, but only after meeting certain stipulations put in place by the Ministry of Home Affairs. These travelers will also have to adhere to strict quarantine rules issued by the Ministry of Health and Family Welfare. While the Indian government has suspended most visas, some categories of travelers, including those traveling on a business visa, are permitted to enter the country.
Ballard said that the United States could become one of the first countries with which India allows full commercial traffic. "Until India… and other parts of the world get their outbreaks under control, you are going to see limited access to India," he predicted.

Q: Will a travel ban prevent companies from sending employees to India?
Zane Wilmans, the Managing Director at Protexx Risk Management, said India is going to be doing "absolutely everything in its power to continue business operations for people coming in." To this end, he noted that India has reduced quarantine requirements from 14 days to 7 days. However, Wilmans emphasized the importance of closely monitoring rules and regulations regarding travel and quarantine as they constantly change in India, but more so in the current environment.
Global Guardian Chief Executive Officer Dale Buckner said businesses should consider which employees they consider key and essential. "As a business, what is your policy on whom you are going to place in a foreign operation for an extended period of time… and do their family members go with them? Everyone is reevaluating that," he said. Further, he added, companies need to "execute the due diligence and ensure that you address the real risks on the ground."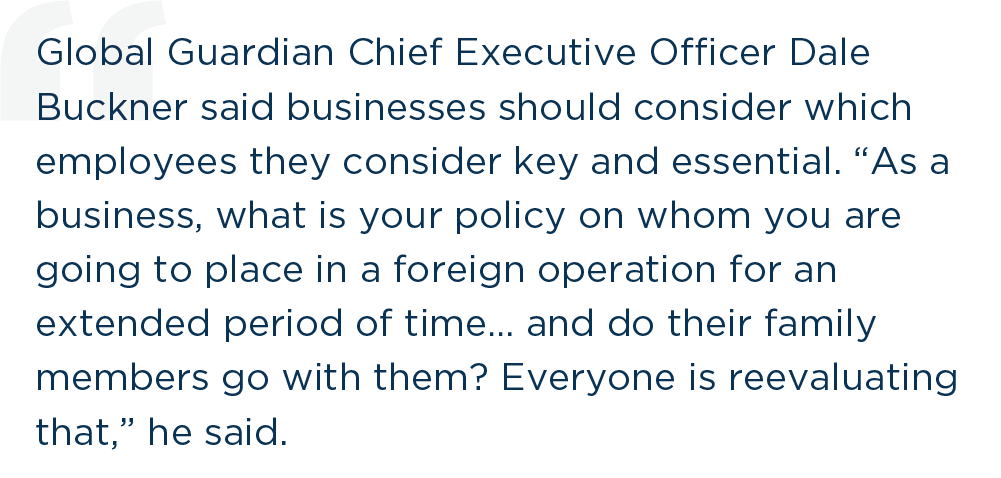 Q: How do I remotely run my operations in India during the pandemic?
India's comparatively low cost of doing business and its large English-speaking population have made it a favored destination for multinational companies. But the global lockdown in response to the pandemic has made it extremely difficult for executives of these firms to monitor their operations from afar. This has exposed the risks of doing business in India.
"The unfortunate reality is that the truth of maybe some of your operations and what is actually going on on the ground may not be translated fully at many times," said Zane Wilmans, the India-based Managing Director at Protexx Risk Management.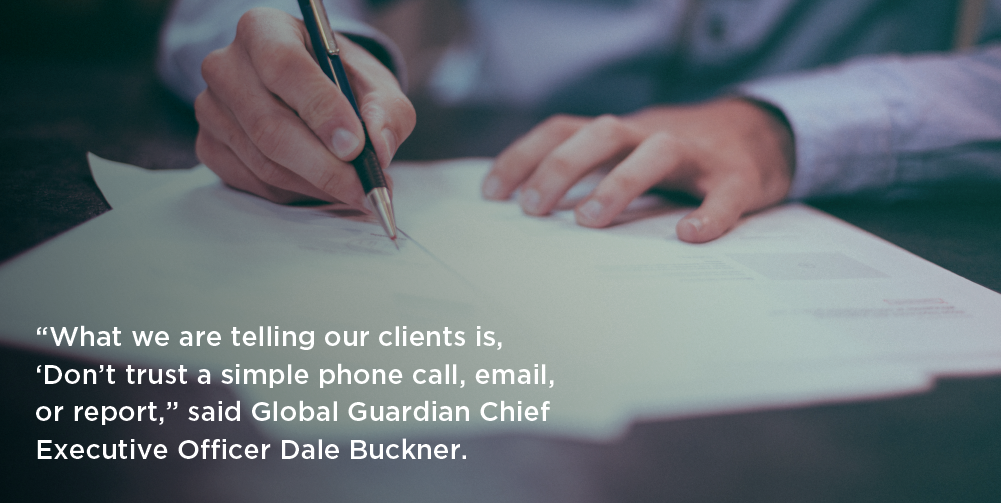 Wilmans recommends companies ramp up remote monitoring—increase CCTV coverage at their facilities, beef up onsite security to respond to rising levels of crime, and put in place an external oversight mechanism that can provide an accurate picture of what is happening on the ground. As economies shrink and unemployment rises, Wilmans said the hard reality is that companies should also be thinking about how to navigate India's complex rules regarding layoffs in the event that they need to downsize.
Global Guardian Chief Executive Officer Dale Buckner said there are likely to be problems with the supply chain and transportation for the foreseeable future. As a result, he said, quality control and oversight of operations in India will become extremely difficult. "What we are telling our clients is, 'Don't trust a simple phone call, email, or report," said Buckner. "You're going to have to find a way to verify it with either an outside agency [like Global Guardian] or, if you have, with trusted agents in the region.'"
Q: What happens if I get sick in India?
This is the biggest concern among expats living in India, according to Zane Wilmans, the India-based Managing Director at Protexx Risk Management. To make matters worse, some insurance companies have said their plans do not cover COVID-19 care.
Wilmans recommends clients operating in India prioritize the development of a roadmap that clearly lays out how to respond in the event an employee tests positive for COVID-19. "What happens if they need treatment? Can they get a bed in a decent hospital… It's not as simple and as easy as it may sound," he said. In a country as large and populous as India, the medical infrastructure has just not been able to keep up, explained Mike Ballard, Director of Intelligence at Global Guardian.
Part of the challenge of getting a hospital bed is due to rampant nepotism marked by well-connected and well-heeled people reserving rooms in hospitals in anticipation of getting sick. As a result, patients who desperately need such facilities are denied the medical care.
Global Guardian Chief Executive Officer Dale Buckner said companies that have expat employees will find access to private medical care in India comes down to the highest bidder. "That is the reality on the ground in this part of the world… and it probably needs to become part of your calculus that you anticipate higher rates," he said.
Wilmans advises clients to create their own "medical bubble." Noting the prevalence of telemedicine in India and the ease of purchasing medicines and oxygen machines at pharmacies without a prescription, he said: "You can create your own triage scenario at not a great deal of cost."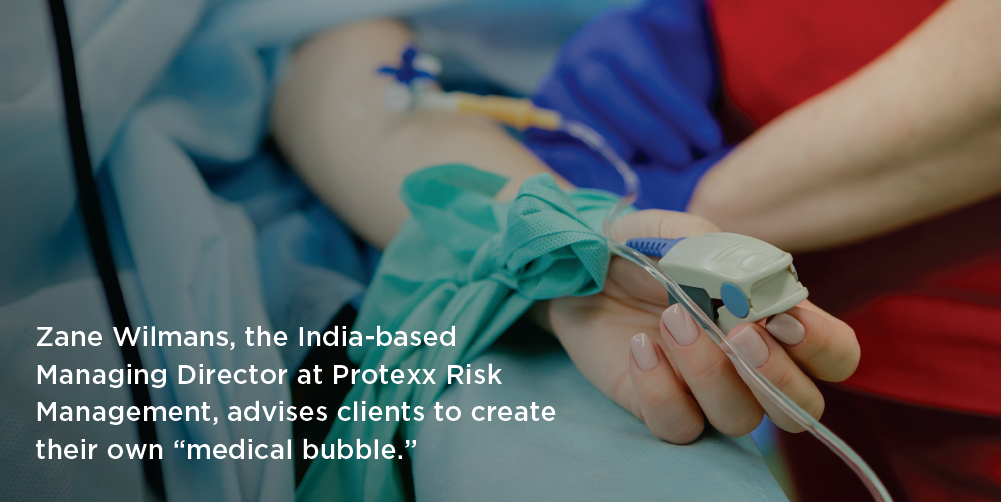 Q: What are the risks of doing business in India?
As Western companies look to do business in India—a country where both costs and the language barrier are low—Global Guardian Chief Executive Officer Dale Buckner said many of them often overlook risks like cyber exposure and crime like kidnapping for ransom. "And they certainly haven't done the analysis of the exposure they are going to have with crime and sexual assault," said Buckner. "Sexual assault [in India] is real, it's rampant, it's a problem."
Zane Wilmans, the India-based Managing Director at Protexx Risk Management, said India ranked number one in the world for kidnappings in 2019. While at least 70-80 percent of the people kidnapped are locals, foreigners, especially women, are also victims of kidnapping, he said. Wilmans said kidnapping its prevalent in all major cities in India, popular tourist destinations like the coastal city of Goa, and in the northeastern part of the country. An experienced security expert who was among those who responded to the terrorist attacks in Mumbai in November 2008, he said the Naxalite insurgency in the country is another significant cause for concern.
Emphasizing the importance of including security considerations in a company's calculus, Buckner said companies that fail to do so end up with "an enormous problem and legal exposure that they never thought through."
India is also notorious for its bureaucratic red tape, a fact to which Wilmans alluded. If India starts to cut some of this red tape "there won't be much competition" for attracting foreign investment, he said. Buckner described India as "full of opportunity." But, he added, "at the same time, we want that reality check. We want to talk about some of the darker things to put in your calculus. And we want you to think about not being dependent on others to operate safely."

Q: What is the future of the security industry?
As crime levels rise around the world driven by the desperation caused by the pandemic, Global Guardian Chief Executive Officer Dale Buckner has some advice for Corporate America: "In the short term, you have to rely more on yourself and look internally to make sure you have the systems in place—whether it is security and personnel, whether it is medical support, whether it is your cyber and information exposure."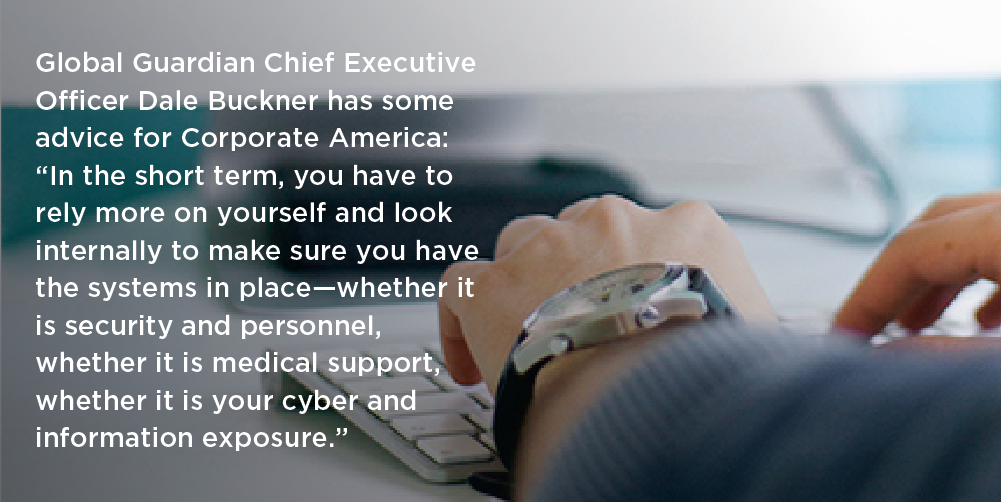 Buckner doesn't think companies should be "expecting the government in any part of the world, including the United States, to be looking out for your best interest."
Zane Wilmans, the India-based Managing Director at Protexx Risk Management, advises against expecting an improvement in the situation in India over the next year. Instead, he said, companies should "act now and build your own support bubble"—whether it be security, medical, or infrastructure—and address the challenge of oversight.
Q: What's happening on India's borders with China and Nepal?
In May, a fistfight broke out between Indian and Chinese soldiers along the disputed border between the two nuclear-armed neighbors. A few days later, Chinese soldiers confronted Indian soldiers at several other points along the Line of Actual Control (LAC), which has served as the de facto border between the two countries since the 1962 Sino-Indian war. At least 20 Indian soldiers, and an unknown number of Chinese soldiers, were killed in the clashes. Both countries have ramped up their military presence in the region.

India's relationship with another neighbor, Nepal, has also deteriorated considerably. Both houses of Nepal's parliament recently endorsed a constitutional amendment to formalize and extend Nepal's claims over approximately 400 square kilometers of territory claimed by India.
Zane Wilmans, the India-based Managing Director at Protexx Risk Management, said the tensions between India and Nepal could mark the beginning of an "unravelling of the relationship" between the two countries. Nepal, he said, would likely not have provoked India had it did not have support from China.
Companies doing business in India will need to see whether they are reliant on supplies from China or have operations near the Sino-Indian border. Wilmans said the supply chain concerns may be hedged by the fact that the Indian government has for some years now placed an emphasis on "Make in India" in order to reduce dependency on countries like China.