In 2019, Global Guardian published its inaugural Global Risk Assessment Map. Here, we take a look at some key changes and continuities for 2020. To download the full map, click here.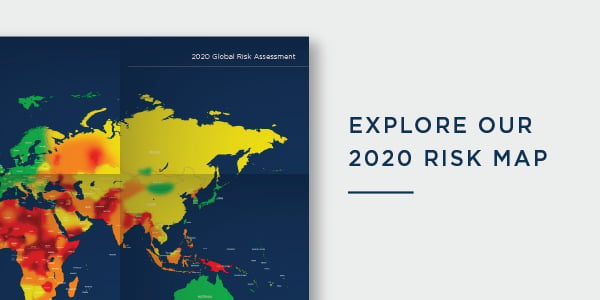 Latin America
Risks in some Latin American countries remain medium to high. With 31,000 homicides, 2019 was the deadliest year on record in Mexico, underlining the destructive power of drug cartels and gangs. Political instability, gang violence, and lack of economic opportunity in the Northern Triangle countries—El Salvador, Guatemala, and Honduras—continue to drive mass migration, with many hoping to reach the United States. Venezuela's economic collapse and political crisis under the authoritarian regime of Nicolas Maduro intensified, with the total number of migrants and refugees now topping 4 million. Bolivia's socialist leader Evo Morales stepped down from power following a disputed presidential election that resulted in deadly clashes between protesters and the police.
Europe
The near-total defeat of ISIS and loss of its territories in Syria and Iraq, along with tougher security measures in Europe, have been credited with a decline in the number and intensity of terrorist attacks in Europe, including Turkey. Consequently, countries like France and the United Kingdom saw improvement from moderate to low risk, even as ISIS and its competitors remain a threat. Additionally, intense political polarization—especially the proliferation of far-right groups and political parties—poses new security risks in Europe. A revanchist Russia continues to undermine Ukrainian sovereignty through its occupation of Crimea and military backing of separatists in the Donbas region. This ongoing armed conflict in the country's east accounts for Ukraine's slip from moderate to high risk.
Middle East
Risks in Afghanistan, Iraq, Syria, and Yemen remain extreme. Although ISIS has been all but defeated in Iraq and Syria, this has not brought an end to widespread violence in these countries. In Iraq, sectarian strife and political deadlock continue. Russia's military intervention in the Syrian civil war has made the brutal regime of President Bashar al-Assad more secure in its position. Iran continues to foment violence in Iraq, back Hezbollah in Lebanon, and support the al-Assad regime in Syria. Iran is just one of the powers competing for political, economic, and religious influence in the region. The rivalry between Iran and Saudi Arabia has had particularly dire consequences in Yemen, in which the two back opposing sides in the country's civil war. Estimates of the number of people killed in Yemen's civil war range from tens of thousands to more than 100,000.
Africa
Risks remain high across much of Africa, particularly in West, sub-Saharan, and East Africa, which have borne the brunt of attacks by Islamist militant groups. From Boko Haram in Nigeria to Al-Shabaab in Somalia to Islamic State in the Greater Sahara (ISGS) in Burkina Faso, these violent extremist groups continue to deepen their presence on the continent. With one in three Africans—422 million people—still living under the poverty line, young men with few economic prospects form ready recruits for these malign actors. In spite of a February 2019 peace accord in Central African Republic between the government and rebels, the country's civil war continues, and risks remain extreme. Ethiopia and Eritrea offer cause for optimism: risks decreased from high to medium, reflecting the peace dividend following the re-establishment of diplomatic relations between the two countries in 2018.
Asia
Risks in Asia have remained relatively unchanged. Indonesia, India, and Philippines all remain moderate risk but are edging closer to high risk. In Indonesia, police clashed with students protesting government attempts to weaken the country's anti-corruption body and to criminalize nonmarital sexual relations. The Indian government ended Kashmir's semi-autonomous status, instituted what has been the world's longest internet blackout in the contested region, and faced demonstrations over a citizenship law seen as discriminatory against Muslims. In the Philippines, President Rodrigo Duterte's "war on drugs" continued with a spate of extrajudicial killings, a measles outbreak and a dengue epidemic led to a national health crisis, and natural disasters resulted in loss of life. Although the mass pro-democracy protests in Hong Kong have been mostly peaceful, and China overall remains low risk, the situation remains tense.
Looking Ahead
2020 promises to be another interesting year for international travel security, with threats ranging from widespread social and political unrest to armed conflict to natural disasters. To download the full map, click here.
Global Guardian is positioned to help corporations and their employees mitigate these risks with a suite of purpose-built tools and services, from pre-travel intelligence to emergency evacuations. Contact us by clicking below or calling our 24/7 Operations Center at 703-566-9463.