A Special Edition of the WorldWIDE Threat Assessment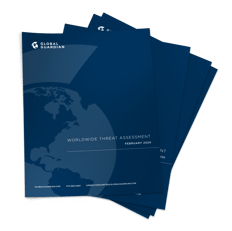 Twice yearly, Global Guardian publishes a comprehensive report providing an overview of recent global security developments. This year's inaugural report is a special edition, taking into account the last several months as well as providing a decade in review. Topics covered in the February 2020 edition include:
Venezuela's decade of collapse

Middle East and North Africa's decade of revolution

Widespread social unrest in Latin America

Cartels, corruption, and violence in Mexico

A new era of Sino-American competition
We also examine cyber threats, terrorism in the digital age, cyberattacks, and pandemics, including the coronavirus (COVID-19).
To receive your copy, simply fill out the form with your information to get started.