The National Oceanic and Atmospheric Administration (NOAA) has predicted an above-normal Atlantic hurricane season for 2021. The Atlantic hurricane season runs from June 1 to November 30. Again this year, communities in the Atlantic basin (the Atlantic Ocean and the Gulf of Mexico) will be confronted with a dual threat—a natural disaster amid a global pandemic.
The storms are not expected to be of the same intensity as in 2020, which witnessed a record-breaking 30 named storms.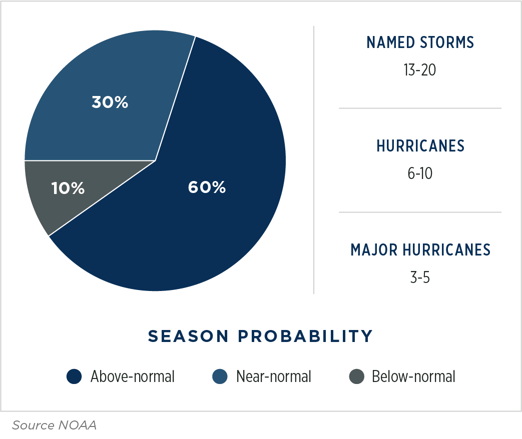 That year, the usual 21-name Atlantic list was quickly exhausted during the busy storm season and for only the second time in history, the Greek alphabet was used for the remainder of the season. This year, NOAA expects 13 to 20 named storms (winds of 39 mph or higher), of which 6 to 10 could become hurricanes (winds of 74 mph or higher), including 3 to 5 major hurricanes (category 3, 4 or 5; with winds of 111 mph or higher).
Ben Friedman, NOAA's acting administrator, says: "Although NOAA scientists don't expect this season to be as busy as last year, it only takes one storm to devastate a community."
At Global Guardian, we believe that response time is critical in times of crisis. A quick and efficient response can not only reduce damage, it can also reduce cost.
"Although NOAA scientists don't expect this season to be as busy as last year, it only takes one storm to devastate a community"
---
FACTORS AT PLAY
The following factors are responsible for the above-normal forecast:
Higher Sea Surface Temperatures:

Warmer than average sea surface temperatures (SST) mean more powerful, damaging storms.

The Atlantic Ocean is

unusually warm

for this time of year.

Vertical Wind Shear

:

Vertical wind shear refers to the change in speed or direction of wind over a relatively short distance or time period. A lower vertical wind shear enables storms to form and strengthen, whereas stronger wind shears disrupt storm formation and growth.

El Niño Southern Oscillation

:

The El Niño-Southern Oscillation (ENSO) is a climate pattern involving changes in the temperature of waters in the central and eastern equatorial Pacific Ocean.

El Niño

, the warming of the ocean surface, creates changes in wind speed and direction that prevent hurricanes from forming. On the other hand,

La Niña events, a period of cooler than normal SSTs in the equatorial Pacific, result in a greater area of low vertical wind shear, allowing more and stronger hurricanes to form and develop in the Atlantic. The hurricane impacts of El Niño and La Niña are like a

"see-saw

between the Pacific and Atlantic Oceans, strengthening hurricane activity in one region while weakening it in the other," according to NOAA Climate.gov.

According to the Climate Prediction Center (CPC), there is a

less than 10% chance

of having El Niño conditions at any point in the rest of the year.

While

ENSO conditions are currently in the neutral phase, there is the possibility of the return of La Ni

ñ

a later in the hurricane season.

The Link to Africa:

Differences in conditions between the hot, dry Sahara Desert in North Africa and the cooler, wetter Gulf of Guinea in West Africa produce high-altitude easterly winds, commonly known as the African Easterly Jet. When these winds are laden with enough moisture they produce thunderstorms that move westward across the Atlantic. An enhanced West African monsoon is linked to increased hurricane activity in the Atlantic basin. Weaker trade winds also favor hurricane development in the Atlantic basin from tropical cloud systems moving westward from Africa.
A combination of all of the above factors mean the likelihood of big (and potentially devastating) storms this hurricane season.
---
A LOOK AT OUR KEY CAPABILITIES
RESPONSE YOU CAN RELY ON

Communications: In a major weather event, communications are one of the first casualties, making it hard to coordinate search-and-rescue operations. Our team is equipped with satellite phones, trackers, and BGAN terminals that can supply Wi-Fi and a phone line to up to 10 users.

Security Response: With one phone call to our 24/7 Operations Center, highly-trained, dedicated armed or unarmed agents can be deployed on the ground to secure a client's site, prevent theft, and ensure a safe environment that is conducive to recovery efforts.

Medical Support: Our teams include deployable medics, telemedicine capabilities, and search-and-rescue paramedics. We deploy at least one medical personnel in our response to storms given the likelihood that healthcare services will be under severe strain in the wake of a natural disaster.

Relief and Supplies: Emergency food, equipment, and supply delivery can be arranged with urgency. Our expertise in navigating the international permit process, paired with our access to diverse aircraft options, allows us to provide support and relief faster than our competitors.

Emergency Aviation: Our pilots operate a variety of aircraft to assess storm damage, deliver critical supplies, secure sites, and provide medical assistance or evacuation services. Our aviation team is able to coordinate transport for large assets, as well as other tailored aviation services to provide cost-effective transport that fits any timeline.

Drone Site Assessments: Our drones are fitted with a speaker, spotlight, thermal camera, and regular camera, which gives them the ability to carry out damage assessments and surveys, search and rescue, and provide security, especially to areas that have been cut off by the storm.

Power Generators: When critical power is lost, temporary power needs to be supplied in short order. Global Guardian can deploy and transport equipment at a moment's notice. Our team of professionals have the ability to stabilize any emergency situation and get systems back up and running.

Shelter: Our teams follow strict pandemic protocols. These include limits on the number of people allowed in storm shelters and the use of personal protective equipment (PPE).
---
CASE STUDIES
Global Guardian has responded to at least one hurricane every year in the past five years: Matthew (2016); Harvey, Irma, and Maria (2017); Michael (2018); Dorian (2019); and Laura and Marco (2020). Here's a look at some of our responses.
Matthew | Category 5 | 2016
In 2016, Hurricane Matthew, a Category 5 hurricane, caused catastrophic damage, including in the Bahamas.
Our response: We deployed a team of 10 agents who secured a client site—one of the largest petroleum products terminals in the Western Hemisphere—with regular foot and vehicle patrols, conducted a site survey to check for security breaches and storm damage, and assisted with the reconstruction of downed fences and gates. We also provided executive protection, first aid, and flew in food, water, toiletries and a generator for each of the client's 150 employees. Over the course of a week, our pilots had flown 10 cargo planes to the site of the storm.

Global Guardian handled all of the logistics involved with the transportation and delivery of critical supplies, allowing the client to focus on other important issues. Our team liaised with immigration and customs officials to expedite deliveries to the client; unloaded, secured, and transported the cargo from the airport to the client facility; and secured the cargo at the facility and assisted with its safe and organized distribution to the 150+ families.
Harvey, Irma & Maria | Category 4 & 5 | 2017
In 2017, we delivered a big response to the three hurricanes that struck in rapid succession—Harvey, Irma, and Maria.
Our response: Six hours after Hurricane Harvey (Category 4 hurricane) passed over Texas, Global Guardian arrived onsite to an unprecedented amount of flooding in Houston and the surrounding areas. The team immediately executed rescue missions using boats to evacuate eight executives and their families from the roofs of their homes, and provided them with medical care. Over the course of seven weeks, we secured hospitals with armed agents, set up camera survellience trailers, and monitored the locations. We also deployed armed agents to provide security for the homes and businesses of 12 clients, and despite electricity being shut off, our team physically secured a large oil and gas facility in Houston.
Two weeks later, Hurricane Irma (a Category 5) made landfall in the U.S. Virgin Islands. Within 24 hours of the hurricane pass over the area, we had deployed a team of 10—including two medics and one pilot—to Puerto Rico to support clients on St. Thomas and St. John. Our team conducted its mission using boats, helicopters, and fixed-wing assets, and provided clients with satellite communications and medical and food aid. By mission end, we had evacuated more than 1,500 individuals to safety in Puerto Rico and had flown them to mainland United States.
Global Guardian's presence in Puerto Rico proved invaluable when Hurricane Maria (Category 5) battered the island just one week later. Our team was quickly requisitioned to perform damage assessments at more than 100 sites in Puerto Rico. We secured major industrial sites after they suffered a direct hit from the eye of the storm, and rapidly provided satellite communications to clients at a time when more than 95% of the island's communications network had been devastated.
Our medical team treated patients suffering from fractures, dehydration, illness, lacerations, and moderate scrapes and bruises. Another team secured a major resort on an outlying island and continued aerial and overwater resupply to support missions throughout the U.S. Virgin Islands, which was also affected by the storm, until government organizations were finally able to access affected areas.
Over the course of several weeks, our team:
Rented and flew helicopters and small planes out of Puerto Rico to evacuate stranded clients, transport sick and injured for medical attention, and resupply clients and their staff with food and water.

Provided clients with regular intelligence updates on the status of the infrastructure—power, water, ports of entry, and communications. We gathered information from multiple sources, including the government and NGOs active in the disaster zone.
Dorian | Category 5 | 2019
In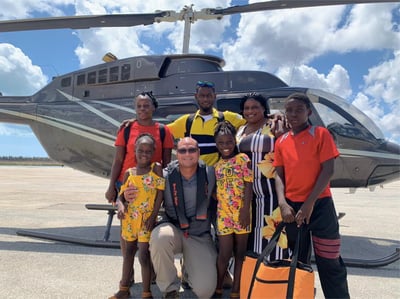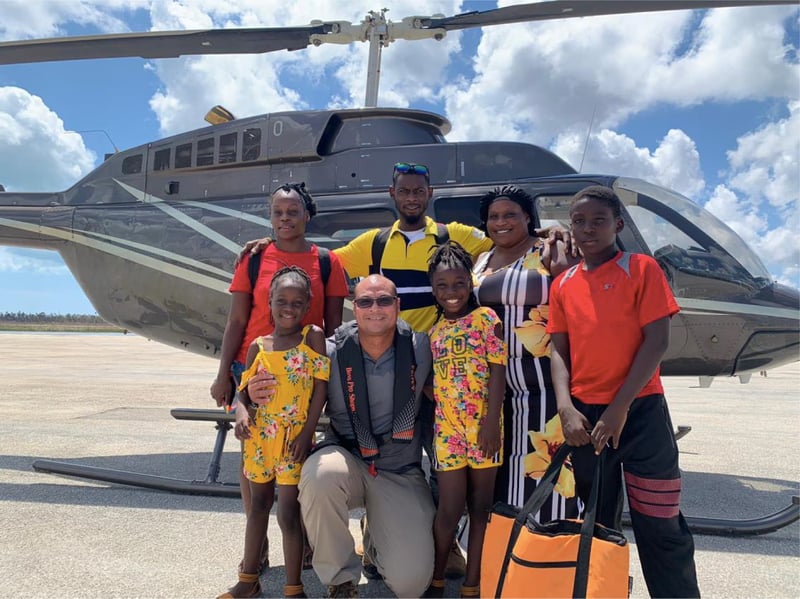 2019, when Hurricane Dorian hit the Bahamas, local authorities were unable to provide food and water, communications were disrupted, medical supplies and care was unavailable, and the ability to medevac people to the mainland nonexistent. Dorian was the most intense tropical cyclone on record to strike the Bahamas.
Our response: Global Guardian deployed a security team and medics to the Bahamas. We provided support to our client, its 180 employees, and more than 100 guests.
Our team, which operated two helicopters from 6:am to 7:00 p.m. nonstop for four days, delivered thousands of pounds of food and water, medical supplies, and even doctors and nurses to the most affected areas of the island; evacuated more than 40 people, including children and elderly, to safety; and treated some people suffering from severe and moderate trauma.
We also:
Secured the client's properties

, conducted damage assessments, deployed helicopter search and rescue missions, used a drone to conduct security patrols in areas that had been cut off by the storm, treated storm casualties and transported them to hospitals in Nassau, and secured the client site, staff, and guests.

Provided executive protection and secure transportation for high-profile and high-net-worth guests, and secure transportation for client staff to/from airport and shipping ports.

Conducted vehicle, ATV, and foot patrols around the clock.

Expedited customs and immigration processes

for incoming clients/guests via private flights, and represented the client at cargo shipping ports, secured cargo, and provided secure transportation of goods and supplies which were delivered via aircraft and boat.
Regularly visited the worst-hit areas of the island to provide authorities and clients situation reports and distribute food and water to newly homeless victims.
KEY TAKEAWAY
NOAA has sounded the warning for this year's hurricane season. It is time to heed that warning. With large parts of the world still in the grips of the COVID-19 pandemic, it is important to prepare and plan well in advance of a natural disaster. A spike in infections and deaths could complicate relief and recovery efforts during a hurricane. Individuals and businesses should prepare their hurricane emergency plans and procure supplies now in order to avoid difficulties when supply lines are inevitably disrupted and there is a run on whatever little is available.
For a link to the CDC Hurricane Preparedness guide, click here.
---
RESOURCES

Preparation Checklist and Considerations
Preparation is key to ensuring your emergency response plans are well executed in the event of a hurricane. Global Guardian's preparation checklist outlines advice to consider and supplies to gather as you prepare for hurricane season. Download Now

The Complete 2021 Hurricane Season Report
View Global Guardian's complete report in a PDF guide. Download Now
---
Standing By to Support
In the event you or your company need support during Hurricane Season, Global Guardian provides comprehensive emergency response support including evacuation by air or sea, tele-medical support, crisis response, real-time intelligence, physical security, and CCTV monitoring to keep your assets safe in the wake of disaster.
To request security or assistance with any of the above services, contact our 24/7 Operations Center by emailing us at operationscenter@globalguardian.com or calling + 1 (703)-566-9463.