Inclement weather is one of the most pervasive risks facing families, travelers and businesses alike. Coastal areas house 40 percent of America's jobs and account for 46 percent of the country's gross domestic product (GDP).
With the most serious primary and secondary effects, hurricanes pose the greatest weather-related threat to Americans on the Atlantic coast. According to the Congressional Budget Office (CBO), 1.2 million Americans live in coastal regions that are at risk for severe damage (5 percent of average income) from hurricanes. In 2017 alone, the Atlantic hurricane season caused up to $282 billion dollars in damage, notwithstanding the human cost.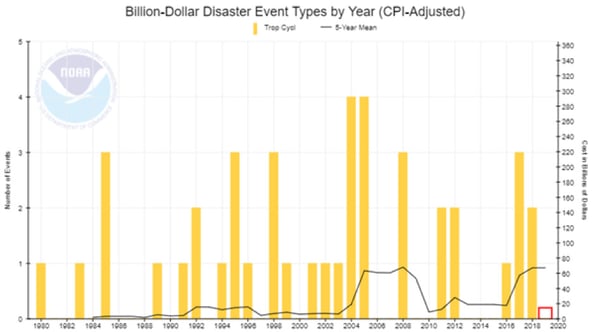 Hurricane season for the Atlantic Basin (the Atlantic Ocean and the Gulf of Mexico) falls between June and December, peaking from mid-August to late October. Hurricanes are measured using the Saffir Simpson Hurricane Wind Scale, dividing hurricanes into five categories in ascending order. Hurricane category classification is not a measurement of impact, rather the category is merely a factor of windspeed. Therefore, when assessing the potential impact of a hurricane to you and your business, it is vital not to underestimate the risk of Category 1 and Category 2 hurricanes. The category system does not account for the storm surge, total rainfall, topography and overall impact to property, infrastructure, and most importantly, human lives. It is also important to note that 90 percent of physical damage and casualties are a result of water level (storm surge and inland flooding) and not high wind speed. Between 2015-2018, 83 percent of hurricane fatalities were due to inland flooding (50 percent from in-car deaths).
*Source: National Oceanic and Atmospheric Administration*
---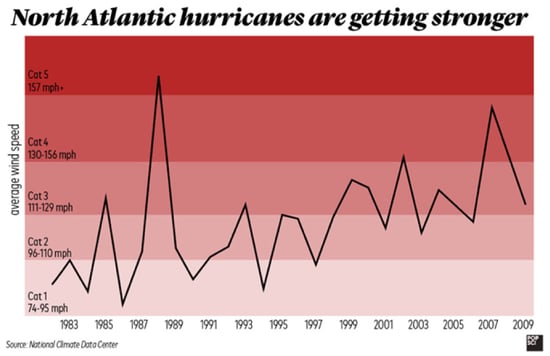 TRENDS
While there is no direct link between climate change and the frequency of hurricanes, higher sea levels and warmer ocean temperatures contribute to the increase in the impact and severity of hurricanes over time. Over the last two to three decades, the frequency of Category 4 and 5 hurricanes in the Atlantic basin is estimated to have increased by 45-87 percent.
---
RISKS AND ADVICE


Drowning
Do not traverse moving water. Six inches of water is enough to knock you off your feet.
Eletrocution
Avoid and report fallen power lines. Flooded homes – turn off power ONLY if you are in a dry place. NEVER turn on any electrical devices/tools (including light switches), while standing in water.
Foodbourne illness
Discard spoiled/contaminated food or water from compromised area & stockpile non-perishable items & bottled water.
Carbon Monoxide (CO)
DO NOT: operate emergency generators or any coal/kerosene-burning equipment in an enclosed area; use a gas-oven to heat your home use a battery-operated CO detector before operating a generator.
Driving though flood waters
Turn around when confronted by flood water. Twelve inches of water can float a car or small SUV.
Displaced animals, pets and wildlife
Take extra precaution upon approach. They may behave aggressively during extreme weather events.
Mold
When entering a space with mold use a N95 (or higher rated) respiration mask. It is almost always present in the aftermath of a serious storm event.
Shortfall in Medical services
Prepare emergency power sources & pack an emergency kit (food, water and medical supplies for 72 hours & prescriptions for a week). Contact your local fire department, and power and water companies if you use electric-powered medical equipment at home.
---
2019 HURRICANE SEASON OUTLOOK
This Atlantic hurricane season will have moderate activity with an average probability for major hurricanes making landfall. The Center for Disease Control (CDC) predicts this year's hurricanes on average to be of lower intensity than 2018.
2019 Projections
| | | |
| --- | --- | --- |
| | Forecast | Average |
| Named Storms | 13 | 12 |
| Hurricanes | 5-6 | 6-7 |
| Major Hurricanes (Category 3-5) | 2 | 3 |
probabilities for major hurricane landfall
| | | |
| --- | --- | --- |
| | Forecast | Average |
| Continental U.S. Coastline | 54% | 52% |
| U.S. East Coast (including Florida Peninsula) | 32% | 31% |
| Gulf Coast (Florida Panhandle – Brownsville, TX) | 31% | 30% |
---
STANDING BY TO SUPPORT
In 2017 and 2018, Global Guardian assisted multiple hotels, resorts, and oil & gas companies with evacuations, intelligence, communications, and physical security in the wake of devastating hurricanes that hit Puerto Rico and several Caribbean islands. Global Guardian helped evacuate over 300 people from multiple locations by securing large-capacity boats, fixed-wing aircraft, helicopters, and seaplanes to reach inaccessible areas.
In the event you or your company need support during Hurricane Season, Global Guardian provides comprehensive emergency response support including: evacuation by air or sea, tele-medical support, crisis response, real-time intelligence, physical security, and CCTV monitoring to keep your assets safe in the wake of disaster. Call our 24/7 Operations Center at 703.566.9463 to inquire or click below.